The Tunisian innovation ecosystem is one of the fastest-growing networks in recent years. Highly educated talents are founding new start-ups every day and shaping the Tunisian future. Find out more about the exciting culture and ongoing developments, as well as getting access to potential partners on-site.
Key insights of the Tunisian innovation ecosystem
Large numbers of highly motivated educated talents

Fast and constantly-growing ecosystem

Private and political interest in entrepreneurship is constantly increasing, leading to economic growth in almost every sector
The Tunisian Ecosystem at a glance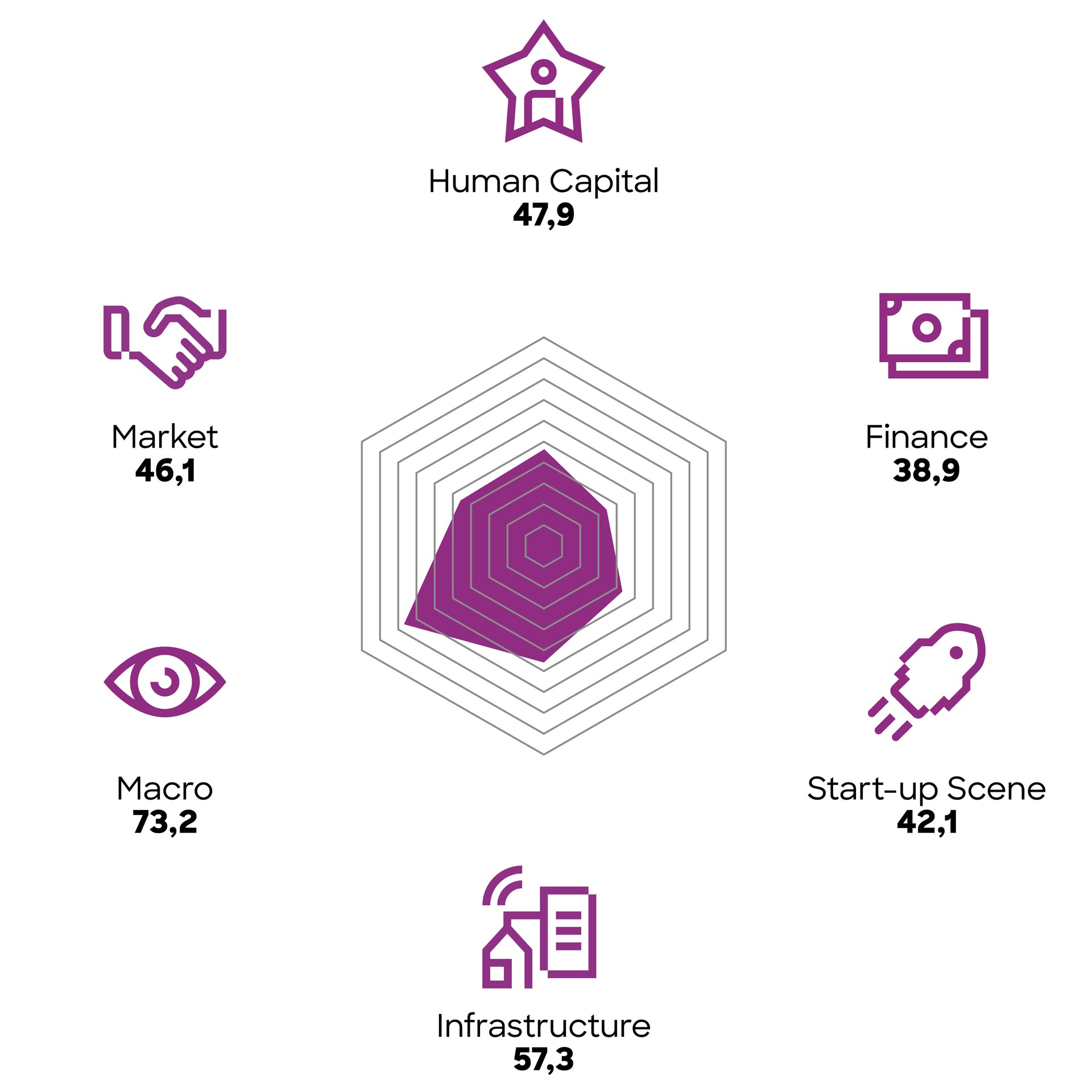 Best practice example
In addition to the theoretical and statistical overview , below you can find some first-hand information to give you an indication of how the Tunisian ecosystem works.
What makes the Tunisian Innovation Ecosystem unique?
The comparatively small size of the ecosystem has various advantages.
For example, this makes it easier to participate with the ecosystem or to get access to talents and knowledge.

Very courageous ecosystem participants.
The "Startup Act of Tunisia" has been initiated by the government, but realized by the ecosystem.

There is comparatively easy access to the market, technology, know-how and high-performing start-ups.

The close network makes references and recommendations a very valuable asset.

As the Tunisian Ecosystem is still developing, the total amount of potential has not been discovered yet.
Potential partners

Invest for Jobs
Under the Invest for Jobs brand, the German Federal Ministry for Economic Cooperation and Development (BMZ) has put together a package of measures to support German, European and African companies in investment activities that have a high impact on employment in Africa. The Special Initiative on Training and Job Creation – the official title – offers comprehensive advice, contacts, and financial support to overcome investment barriers. The development objective is to team up with companies to create good jobs and apprenticeships in the partner countries, of which there are currently eight, and to preserve them during the coronavirus pandemic. The aim is also to improve local working conditions. The Special Initiative is implemented by the Deutsche Gesellschaft für Internationale Zusammenarbeit (GIZ) GmbH among others.
Find out more
giz Deutsche Gesellschaft für internationale Zusammenarbeit GmbH
The Deutsche Gesellschaft für Internationale Zusammenarbeit (GIZ) GmbH is a federal enterprise with worldwide operations. We support the German Government in the field of international cooperation for sustainable development. We are also engaged in international education activities around the globe. Through our work we assist people and societies in shaping their own future and improving living conditions.
Find out more
Tech 216
Tech216 – Your IT. Made in Tunisia.
Tech216 is a project supporting collaboration between German and European as well as Tunisian IT service providers. Tech216 facilitates access to Tunisia's tech talent and supports successful outsourcing project specification and implementation. First pilot projects, facilitated by UnternehmerTUM, were realized with the BMW Group and the Tunisian companies Wevioo and Think.It in 2020.
Tech216 is supported by the Special Initiative on Training and Job Creation of the German Federal Ministry for Economic Cooperation and Development (BMZ), and implemented by the Deutsche Gesellschaft für Internationale Zusammenarbeit (GIZ) GmbH – Germany's leading provider of international cooperation services.
Find out more
Smart Capital
Smart Capital, a management company approved by the Financial Markets Council, is responsible for implementing STARTUP TUNISIA.
STARTUP TUNISIA is a national initiative which aims to make Tunisia a country of Startups at the crossroads of the Mediterranean, the MENA region and Africa.
Find out more
Tunisian Startups Association
As a representative and voice of startups in Tunisia, The Tunisian Startups association is committed to establishing a founder-friendly environment. They open the conversation with relevant stakeholders in the Tunisian economy and politics and develop proposals that encourage a culture of entrepreneurship and reduce the barriers to starting a business and taking it to the next level. They promote innovative entrepreneurship and want to establish an entrepreneurship culture. They work on connecting the startup ecosystem including startups, investors, support structures, etc and connecting the Tunisian Startup ecosystem with other ecosystems all over the world.
Find out more
Beta cube

Beta cube is a tech Venture builder that invests, builds, and grows B2B-based start-ups in Fintech and Mobility solutions.
Find out more
Digital Transformation Centre Tunisia

The programme Business & Invest hosted by the Digital Transformation Centre Tunisia focuses primarily on supporting cooperation with European companies. Implementing partner is the Tunisian government. Tech entrepreneurs as well as (foreign) investors and interested companies are invited to use the programme as a physical and virtual point of contact and benefit from the services of its Business Facility Desk. In addition to supporting start-ups and industry 4.0 solutions, the focus is to promote the digital transformation of multiple sectors, particularly digital finance, e-commerce and health.
Westerwelle Foundation

The Westerwelle Foundation promotes international understanding in the areas of democracy, a market economy, and rule of law, as well as tolerance, to respond to changes in the world. With these goals in mind, the Westerwelle Foundation offers support in the areas of "education", "idea promotion" and "networking".
Find out more